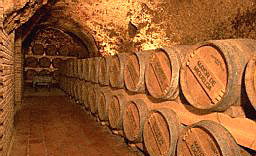 Now alternatives are available, the use of oak casks is a conscious choice. The wincmaker or cellar master must make several decisions. The variables are the percentage of new oak, the length of time the wine spends in oak, and the type of oak.

Some wines, and some vintages, will not stand 100% new oak. The winemaker may use a percentage of new casks each year, or may age part of the crop in stainless steel or another inert material.

The time spent in oak will vary, again with wine and vintage. In a light year, the wine will spend less time in cask.

Winemakers, especially in the New World, will select casks from particular kinds of oak, even particular makers, believing that these variables can effect subtle changes to the wine.
The following wines are aged in oak as a deliberate part of the taste-shaping process, not just because large and inert casks are the local tradition. The list cannot be exhaustive, for oak-ageing is part of the armoury of techniques drawn upon by winemakers the world over, and the decision may change from vintage to vintage. It would be hard to find a wine region where someone is not oak-ageing their wine, for good or ill effect.

Adding Oak Flavour
Casks are not vital for oak flavour, oak is. New World wineries sometimes use oak chips suspended in the vat to add oak flavours to wines — a practice frowned upon in Europe.