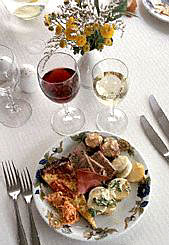 Since ancient times, an alcoholic drink such as wine or beer has been a desirable adjunct to food. It stimulates the appetite and relaxes the mind, contributing to the general enjoyment of the meal; its own agreeable taste may open up an additional spectrum of flavours in combination with the food eaten.

Local production, whether of wine, beer or cider, may have shaped the drinking habits of the poorer sections of society, but history has much more detailed records of the moneyed classes, to whom the only limits were transport and politics. Britain and the Netherlands, seagoing nations with no wine of their own, were able to enjoy wine from around the coasts of Europe. The first love of the English was the claret of Bordeaux, enjoyed with roast beef for many centuries; but war and the Methuen Treaty of 1703 imposed prohibitive import duties on French wines in favour of Portuguese. To improve their keeping quality over long sea voyages, Portugal's rough reds were fortified with brandy — which also made them more palatable. The 18th century saw a nation of port-drinking, beef-eating English.

By the time French wines were no longer a smuggled luxury, France had confirmed its reputation tor culinary pre-eminence. Arthur Young, an Englishman travelling in France before the Revolution, noted that: "In the art of living, the French have generally been esteemed by the rest of Europe, to have made the greatest proficiency.... For every man in Europe, that can afford a great table, either keeps a French cook, or one instructed in the same manner." Antonin Careme (1784-1833), probably the most influential chef of the 19th century, cooked for Napoleon I, the Tsar of Russia, and England's Prince Regent (later George IV). And during his lifetime wine took its greatest step forward since its invention, when the Bordelais perfected its keeping and maturing, allowing it to develop in cask and bottle into the grands vins that so perfectly partnered the new heights of cuisine.