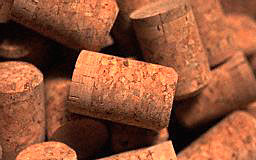 Corks come in various grades suited to different wines. The standard width is 24mm (lin), which is compressed by a corking machine into a standard bottle neck width of 18.5mm (0.75in).

Champagne corks are wider — about 31mm (1.25in): they undergo greater compression in order to withstand the pressure of a sparkling wine.

Problem Corks
Some corks refuse to come out of the bottle: if this is the case, try the following remedies.