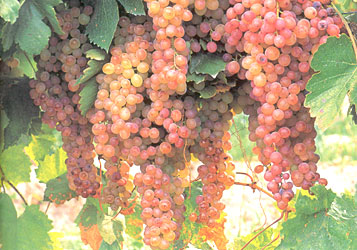 These are some of the most widespread major varieties, these are discussed below :

Aleatico
Red grape with intense perfume, making wine with deep colour, often sweet and strong. Grown in several regions of Italy, and now in Chile (small plantings in Australia and California).

Aligote
White grape from Burgundy; makes dry, fairly acidic white wine of varying quality, Bourgogne Aligote. Also grown in Bulgaria, Romania, California. Versatile red, good acidity; widespread in Italy and California.

Barbera
Versatile red, good acidity; widespread in Italy and California.

Carignan, Carinena
France's most widely planted red grape, yielding high quantities of deep-coloured, alcoholic, tannic vin de table. New viniHcation methods produce better wines in the Midi, especially in blends. Widespread in California and South America.

Chasselas
White grape grown mainly in Switzerland, for a soft, dry white wine. Also in the upper Loire, Alsace, Savoie and Germany (as Gutedel).

Cinsaut
Medium-quality, low-tannin red. Likes heat; much used for blending in Midi, Lebanon, North and South Africa.

Colombard
West France white; very successful in California, South Africa. Flowery young wines with crisp acidity.

Folle Blanche
High-yielding, highly acidic white variety used for Gros Plant in Muscadet, and in blends in California.

Fume Blanc
Sauvignon Blanc synonym in California, New Zealand, Australia, South Africa.

Garnacha/Grenache
Pain's (and the world's) most widely-planted red-wine grape, Garnacha Tinta/Grenache Noir grows well in hot, dry climates; used for blending and for good, fruity rose. Found in the Rhone, Provence, Corsica, Midi, California, Australia, South Africa.

Malbec
Red grape used to soften Cabernet Sauvignon-based bordeaux. Grown in Argentina and (as Cot) in Chile.

Malvasia/Malvoisie
Good-quality aromatic white grape, producing deep-coloured, full wines, and adding its character to blends. The variety gave its name to the sweetest style of madeira. (The Malvoisie of Switzerland and some parts of France is actually Pinot Gris).

Marsanne
Used for dry white wines in the northern Rhone; also grown in Switzerland and Australia.

Mazuelo
Spanish name for Carignan.

Melon de Bourgogne
White grape used to make dry white Muscadet wine. Sometimes called PinotBlanc in California.

Mourvedre
Sturdy red grape, usually blended with Syrah, Grenache and Cinsaut in the Rhone, Provence and Midi.

Muller-Thurgau
Germany's most-planted grape, producing fairly neutral white wine. Also makes ordinary wine in Hungary. Better, floral-scented Muller-Thurgau is made in New Zealand, N Italy, Austria, England and Luxembourg.

Muscadelle
Aromatic white grape used in white bordeaux blends, and for rich dessert Liqueur Tokays in Australia.

Muskat-Silvaner
German/Austrian synonym of Sauvignon Blanc.

Pinot Blanc
White that can make delicate, appley-aroma wines, particularly in Alsace. Known as Weissburgunder in Germany and Austria, Pinot Bianco in Italy, increasingly popular in California. Makes a good base for sparkling wines.

Pinot Gris
May be black or white; its wine is usually a deep-coloured, full-bodied dry white. Known as Tokay d'Alsace in France, Riilander in Germany, Pinot Grigio in Italy, Szurkebarat in Hungary; also found in Romania.

Sangiovese
The main red grape for Chianti. Clones are found all over Italy, making wines of varying quality.

Seyval Blanc
Hybrid grape with high acidity, making dry white wine with neutral orgrapefruity character in England, New York State and Canada.

Shiraz
Synonym for Syrah grown in Australia and South Africa.

Silvaner/Sylvaner
White making wine high in acidity, low in aroma, except from good producers in Alsace and Franken in Germany. Useful in blends.

Steen
South African for Chenin Blanc.

Trebbiano/Ugni Blanc
Very proliEc, highly acidic, often characterless white grape, widely planted throughout world.

Welschriesling
White; unrelated to Riesling, but makes light, aromatic wines of very variable quality in Austria, N Italy (Riesling Italico), and throughout S-E Europe (Laski Rizling, Olaszriesling).