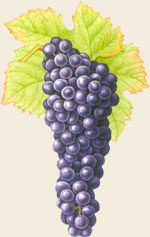 Tempranillo is the key grape of most serious Spanish red wines, including Rioja, Ribera del Duero and the fine reds of Catalonia. To the wine drinker Tempranillo carries hints of the Burgundy grape Pinot Noir, in its aroma and taste. Science does not support theories, which doubtless steam from the taste, that vine was carried into northern Spain from France by pilgrims. Whatever its origins, Tempranillo has established itself as Spain's senior red variety. It goes under a range of names across the peninsula, and it known in Portugal as Tinta Roriz. It is grown under this name in the Douro for port and table wines.

Rioja is the most widely-known Tempranillo-based wine. The grape is not the only one used, but the better the Rioja, the more likely it is to have a majority of Tempranillo in the blend. The variety grows best in the Rioja Alta and Rioja Alvaesa subzones, where it receives the moderate rainfall it needs. tempranillo ripens early, making it suitable for the high, cool areas, such as Rioja and Ribera del Duero. It also suits the limestone soils of these regions.

Tempranillo produces wine of good colour, relatively low acidity and with an affinity for oak-ageing. The Tempranillo is low in tannin, so other grapes, such as Mazuelo and Cabernet Sauvignon, are sometimes added to the blend to compensate.

Spain has kept Tempranillo to itself. Portugal apart, the only other large plantings are in the Argentine.