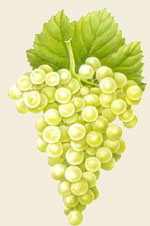 Semillon is highly unfashionable among both winemakers and wine drinkers, and is rarely thought of as a single-variety grape. The name Semillon on the label does not encourage sales in the way that Chardonnay or Sauvignon Blanc does. Indeed its main role is to be blended with Sauvignon Blanc in sweet wines such as Sauternes, but this obscures the variety's usefulness in dry ones. It partners Sauvignon Blanc in great white Graves, and alone it has made some superb, long-maturing dry wines in Australia's Hunter Valley. These wines are not widely known, and their need for long ageing works against them.

Semillon's virtues include reliable cropping, a good yield and resistance to vineyard diseases. In all these respects it is the superior of Sauvignon Blanc. It also responds well to oak-ageing, something which the superior white Graves wines have been demonstrating for generations. But, unlike Chardonnay, Semillon has not caught the imagination of New World winemakers eager to emulate the classic French wine styles. This is due partly to the grape's vices, which include a tendency for its juice to oxidize easily during the winemaking process. Another problem — and opportunity — with Semillon is that their thin skin makes the grapes liable to rot. This is good news it the rot is "noble" botrytis cinerea, but bad if the rot is the dreaded grey variety which can ruin a crop while the grapes are on the vine.

In France, Semillon is concentrated in the Gironde, around Bordeaux, and in nearby areas like Monbazillac. There are fair-sized Semillion vineyards in Chile, the Argentine, South Africa and Australia. Outside France it is only in Austrlia, and in particular in the Hunter Valley of New South Wales, that Semillon has made its mark. Elsewhere in New South Wales it is grown in the Murrumbidgee zone and blended with other grapes to produce good everyday wines.