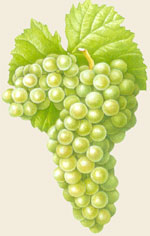 This variety was not regarded as a classic until the discovery, by fashionable Paris followed by the rest of the world, of the wines of Sancerre and Pouilly Fume in the 1960s. Sauvignon Blanc had been used to make these two Upper Loire white wines for generations, but it was the vine's place in Bordeaux that attracted what little attention it got. For, with Semillon, it is a component of white Graves and Sauternes. These wines were on the world's fine wine lists when Sancerre and Pouilly were forgotten villages in central France.

Today, the Sauvignon Blanc style — fresh, acidic and assertive yet with enough fruit to be enjoyable — is known worldwide. Winemakers in New Zealand and California have taken the variety and produced wines which have undercut the Loire prototypes in 'price on the export market, and sometimes overtaken them in quality. Yet it is still to Bordeaux that the wine lover turns for Sauvignon Blanc wines which have the capacity to age, to gain complexity and to be truly fine wines.

Sauvignon Blanc is acquiring a new role in Bordeaux that of rejuvenator of tired wine styles. When producers of Entre-Deux-Mers, Graves and basic AOC Bordeaux wish to add some zest to their wine, they increase the Sauvignon component at the expense of Semillon. It is not that simple, of course: Sauvignon's rise is in part to do with its affinity with modern winemaking. Cool fermentation, skin contact, maturation in tank rather than cask, all suit Sauvignon Blanc. So many of the Sauvignon Blanc wines trumpeted as the "new" wines of old appellations axe as much due to improved techniques as to the extra Sauvignon. In many ways these wines are France's answer to the New World: New Zealand, especially, has caused a stir with a flood of often excellent, and usually inexpensive, Sauvignon Blanc wines.

The traditional style of Sauvignon Blanc wines, in Sancerre and Pouilly, may have been better than legend would tell. So much poor wine was made, often by large firms remote from the vineyards, that there is a danger of losing contact with the traditional style. This tradition involved low yields, fermentation in oak (sometimes new oak): a generally Burgundian approach. A few growers, such as Didier Dagueneau of Pouilly, are reviving this approach, with impressive results. They may be able to prove that Sauvignon Blanc can make wine capable of ageing, and that it deserves more respect as a variety. But the vast majority of Sauvignon Blanc wines are, and will be, simple in taste and structure, and designed to be drunk young.

Sauvignon Blanc's international spread is now wide, following the boom in fashion. Australia is mostly too warm for the variety — New Zealand supplies the wine. Chile has yet to match New Zealand for clean, fruity Sauvignon Blanc wines — but the signs are that it will.

In California Sauvignon Blanc has been designed by Robert Mondavi into a new kind of wine: Fume Blanc. This clever adaptation uses a short period of oak- ageing to transform California Sauvignon Blanc from a flat, rather grassy-tasting wine to something akin to Pouilly Fume. Italy, Slovenia, Austria and Bulgaria have varying amounts of Sauvignon Blanc; it is perhaps in Austria that it does best.
Sauvignon Blanc requires cool conditions and a poor soil if it is to emulate the Upper Loire. In warmer regions — even Bordeaux — it can take on a rather vegetal style, lacking the acidity and crisp fruit of the Loire prototype. The warmer the region, the more influence careful wine-making can have on the style.

Sauvignon Blanc is a junior partner in white Graves and Sauternes, at least in quality terms. The balance of varieties varies from chateau to chateau, with Semillon usually in the majority in Sauternes, though both varieties are subject to noble rot if conditions are right. Sauvignon Blanc takes over as the majority component of Graves, with some properties growing 100% Sauvignon Blanc. The Pessac-Leognan appellation insists on at least 25% Sauvignon Blanc.