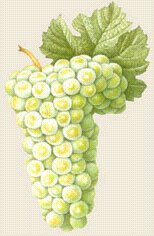 Germany has produced one true classic vine, the white-wine grape Riesling. The variety is perfectly adapted to the cool, steep, river-slope vineyards of Germany, so much so that the classic German vineyards, as opposed to the everyday ones, are almost wholly given over to this aristocratic vine.

The virtues of Riesling are that makes a wine that balances acidi and sweetness. It ripens late in thk year, but this can mean superb sweet wines if the autumn is warm. Riesling also resists winter cold, surviving frosts that kill other vines. Against it is its relatively low yield — by German standards.

Riesling can make dry or sweet wines, wines for early drinking and wines that can age for decades. The best take advantage of the variety's acidity, which adds interest to even the sweetest wines.

The variety is grown in the best vineyards of Germany's Mosel and Rhine Valleys, in Austria and southeast down the Danube, and in northern Italy. In France it is restricted to Alsace, where its wine is typically stronger in alcohol, and drier, than the German versions. In the New World Riesling does well in California, New Zealand and Australia. In such warmer climates the balanced acidity of the German prototype wines can be lacking. Late-harvest Rieslings can be successful, but are usually "fatter" in style than German wines. Riesling should not be confused with the Welsch or Laski Riesling, which is inferior.