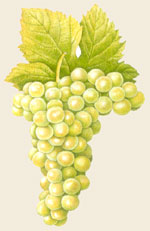 More a family of grapes than a single variety, Muscat wines are instantly recognizable to anyone who has tasted a Muscat table grape. The taste is about the only common factor in this vast family. Some are black, some reddish, some white in colour. The wines made from Muscat grapes vary just as widely: from sparkling white to the rich, dark, fortified wines of Australia.

It is thought possible that the Muscat vine is the oldest variety there is, and even that other vitis vinifera vines are descended from it. Such theories are unprovable, but it is a fact that classical Greece grew Muscat or something similar, and that a vine that the Roman author Pliny described was Muscat. Greece still has Muscat vines, and the places where Greek colonists settled, from the Crimea to Marseilles, still grow it.

There are at least 200 members within the Muscat family. Some are better than others: Muscat Blanc a Petits Grains is generally considered the best. It thrives in relatively hot conditions, such as are found in the southern French vineyards of Fron-tignan, where it is used in vins doux naturels. The same vine occurs in the Rhone Valley at Beaumes-de-Venise, and also nearby at Die, where the wine is sparkling. In Italy and Spain, the vine is important and known as Moscato and Moscatel respectively.

Australia has taken Muscat Blanc a Petits Grains and produced a remarkable and unique style of wine; liqueur Muscat. Until detailed studies were done, it was thought that the Australian vineyards contained several varieties of Muscat. However, Muscat Blanc a Petits Grains mutates readily, changing in grape colour from white to red-brown. This has led to confusion, with the various colours being given names such as White, or Brown, Muscat. Truly, they are all Muscat Blanc a Petits Grains.

Other Muscat varieties, such as Muscat of Alexandria, produce higher yields but the wine is of lesser quality. It is, however, widely grown in countries as various as Greece, Australia and South Africa. Muscat Ottonel, a 19th-century crossing, is widespread in central Europe, from Alsace eastwards via Austria and Hungary to Romania.

Muscat vines vary in the style of wine produced according to the degree of concentration and of Muscat flavour. Muscat Blanc a Petits Grains produces the grapiest, most intense wine. It is rare, however, for labels to indicate which type of Muscat is used in a wine.