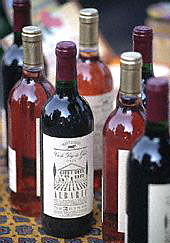 Most red wines are made to taste dry, thus removing one of the major style variants. Red wines vary according to weight and astringency. They also differ more than white wines in their longevity: some are made to be drunk young — like most white wines — others can improve with age for decades. A long-lived red wine will give little pleasure in its youth: see Wine and Time, for guidelines on when to drink which wines.

Rose wines vary relatively little: few are made to age, and they differ mostly in sweetness. Some, such as Rose d'Anjou and California "blush" wines, are fairly sweet, others, including most Spanish and Provence roses, are dry.

Red wines in the "light, fresh, unaged" category are intended to be drunk young. They are made from grapes such as Camay, Cabernet Franc and other varieties which produce un-tannic wines (broadly speaking, it is the tannin that allows red wine to age).

Medium-bodied red wines form the largest single class. It includes many wines of high quality and even more of medium status. Some of these can go on to age into the "mature quality" class.

The "assertive, powerful" class includes wines made to display strong flavours and tannins, usually (especially from the New World) with plenty of fruit flavours. Most of these wines have the structure to age.

Mature quality wines are those from classic areas, and great vintages in lesser areas, which have undergone bottle-ageing. These wines deserve a special category because the taste of maturity is a distinct one.

The "specialities" listed here include the exceptions to the rule that most red wine is dry. In ancient Mediterranean tradition, wines made from semi-dried grapes — with a high level of sugar to be converted into alcohol — are strong and some-rimes sweet. In Italy this style of winemaking is known as passito or recioto. Italian wines labeled liquoroso are fortified.

Some wines are hard to place: are they in this "specialities" group or are they fortified? The answer is in the winemaking technique, but in taste terms there can be little to choose between a wine made from sun-dried grapes, but not fortified, and one which is made from freshly-picked grapes and then stiffened with brandy.

Red wines may move from group to group according to vintage: a good vintage in a classic area such as Bordeaux or Burgundy will move many wines up into the assertive and powerful class from their normal status as medium-bodied.

The prestigious grape varrities which form the basis of Bordeaux's and Burgundy's red wines, Cabernet Sauvignon and Pinot Noir, have been planted enthusiastically in the New World wine lands of California, Washington, Oregon, South America, Australia and New Zealand, as well as in many eastern European countries along the Danube and around the Black Sea. The wines may be of an everyday, medium-bodied style, or may rival the French orginals — particularly those from top producers and good vintages in California, Oregon and Ausstralia.

In these areas, where there is no accepted, traditional wine style the choice of wines can be complicated. Style is up to the winemaker, who may change his or her mind from one vintage to the next. Careful study of a bottle's back label can provide clues.