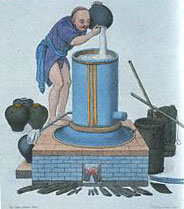 Beijing Friendship Winery
Pernod-Ricard's joint venture makes 40,000 cases of white Dragon Seal, using blended French and Chinese grapes.

Hua Dong Winery
The company, partly owned by Hiram Walker, is associated with Shandong Peninsula's Qingdao State winery.
Australian consultants have helped set up the venture, including an experimental Chardonnay vineyard. Best-known export is white Tsingtao brand wines.

Remy Martin
The first modern-style Chinese white wine was Great Wall, made in 1978 in conjunction with the Tianjin Farm Bureau. This venture now produces 120,000 cases of Dynasty (red and white), for home and export markets.

Imperial Court, a traditional-method sparkling white wine using Chardonnay, Pinot Noir, Petit Meunier and Ugni Blanc, is produced at a winery near Shanghai.