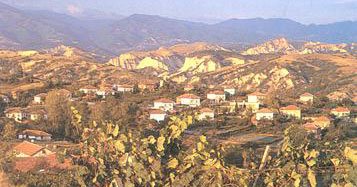 Whether Nature or man provided the initial impetus, wine was grown in Thrace, what is now Bulgaria, 3,000 years ago: Thracian wine is mentioned in the Iliad of Homer. But while this is a long history it is not an uninterrupted one: domination by the (Muslim) Ottoman empire meant that from 1396 to 1878 winegrowing went on only on a local scale. Only after 1918 did winemaking really begin to thrive. The advent of Communism after World War Il meant the collectivization of the vineyards along with the rest of agriculture, and it was only in the mid-1970s that the wines began to take their familiar modern shape.

The need to export wines shaped the present wine industry. Demand came first from the former USSR, which had a seemingly insatiable thirst for sparkling wine and sweetish table wine. Western involvement came with the US firm Pepsico, which wanted to sell its fizzy soft drink in Bulgaria but did not want either Bulgarian currency (had such a thing been possible) or, say, tractor parts in return. In order to get wine that would be saleable in the West, it put the Bulgarians in touch with such leading figures of the Californian wine industry as Professor Maynard Amerine of the University of California, Davis. Certain wineries, fired with Californian enthusiasm, began to forge ahead.

Great swathes of Cabernet Sauvignon and other classic varieties were planted on the wide, rolling countryside north and south of the Balkan Mountains, which divide the country horizontally. Before collectivization there had been vineyards not just here but also on the steeper slopes of the foothills; these however were neglected in the rush for higher and higher yields and have yet to be replanted. When they are, these old hill vineyards might yield Bulgaria's finest wines yet.

The structure of the Bulgarian wine industry is thus geared to producing large volumes of well-made wine tailored to foreign (but not always Western) tastes. Progress was by no means uniform. The Controliran regulations, which define the geographical origins of the better wines, were supposed to reflect regional character, and were a step forward. Some wineries seized the export opportunities offered, while others lagged behind in quality. The principal wine zones were divided more according to administrative convenience than by soil or climate. There was a limit, too, on the degree of individuality encouraged in wineries. A standard training system of just over lm (3.3ft) high was established for all vines, even though some, like the native Mavrud, might benefit from a different approach: possibly bush training. And as in other Communist countries, marketing was carried out by a central organization, Vinimpex; another central body, Vinprom, controlled production.