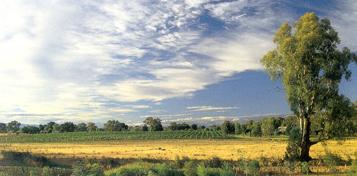 Although grapes are grown in all Australia's states and territories, the wine regions hug the south-eastern corner and the south-western tip of Australia's vast coastline and line two of the great river systems, the Mur-rumbidgee and the Murray. The main regions fall, for the most part, within the boundaries of four states:

New South Wales is the oldest and, climatically, the hottest wine-producing state, and includes the famous Hunter River Valley north of the capital, Sydney.

Victoria, the most southerly mainland state, produces an enormous variety of wines and, increasingly, some of very high quality.

South Australia is the most important state, producing a lot of cheap, bulk wine from the Riverlands north-east of Adelaide but also some of the best Australian wines, in the Barossa Valley, for example.

Western Australia has some of the newest wine areas in the country-clustered in the south-west corner of the state, not far from the city of Perth - in a climatically varied region in which lack of water is a major consideration for growers.