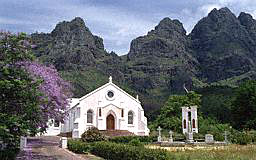 This region comprises six of the Cape's best?known areas: Constantia, Durbanville, Stellenbosch, Paarl, Swartland and Tulbagh.

Swartland District WO
Swartland has 12.9% of South Africa's vineyards, around the towns of Darling, Malmes-bury and Riebeek. Irrigation is generally necessary. This area has traditionally been the source of high?quality fortified wines, robust, full?bodied reds from Cinsaut, Tinta Barocca, Pinotage and Shiraz; excellent Sauvignon Blanc and good, inexpensive whites from Riesling, Colombard, Bukettraube and Fernao Pires.

Good producers include Allesverloren (for port?style wines), Swardand co?op.

Tulbagh District WO
Surrounded on three sides by the Winterhoek Mountains ?which create a number of micro?climates ? Tulbagh's vineyards are situated on the eastern border of Swardand. The climate is hot and relatively dry, making irrigation necessary for vineyards sited on the sandy valley floors, though less so for those planted on wetter hillsides.

The most famous producer is Twee Jongegezellen, which pioneered cold fermentation in the 1960s and night picking in the 1980s.