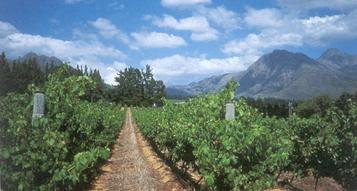 Cape wines were wellknown in Europe in the 19th century most notably the sweet Constantia wine (made from Muscat grapes) requested by the exiled Napoleon and enjoyed by Russia's tsars. Fortified wines and liqueurs are also part of South Africa's heritage, and the best are of exceptional quality.

South Africa is traditionally a white wine producing country the main varieties being Steen, the local name for Chenin Blanc, with 31% of all plantings, Hanepoot (Muscat of Alexandria), 7%; Colombar(d), 10%; Sauvignon Blanc, 4% and Cape Riesling (originally Crouchen Blanc from south-west France), 4%. Plantings of Chardonnay (3.2%) are currently rising fast.

The main red grape varieties are: Cinsaut, with 5% of plantings; Cabernet Sauvignon, 5.2%, and Pinotage (a grape created in 1926 by crossing Cinsaut with Pinot Noir), 2%. Shiraz (Syrah), Merlot, Cabernet franc and Pinot Noir are also becoming ever more popular.

Chenin Blanc is used for many wine styles, from fresh, dry, cold-fermented whites to medium-dry, sweet and botrytized wines.

As in America and Australia, wines are generally sold under the of a grape variety (known here as a cultivar), with the producer's prominent on the label.