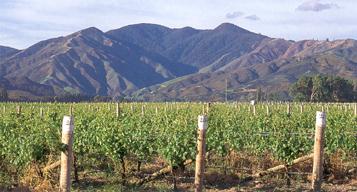 While the modern wine industry -the making of fine varietal wines (predominantly from one variety) from mainly French grapes - has developed fast since the 1970s, New Zealand's viticulture is, like Australia's, as old as the country's European settlement. The first vines were introduced in 1819 by an English missionary, the Reverend Samuel Marsden, who planted cuttings brought from Australia at Kerikeri in the Northland region. The first recorded wines were made by James Busby, who was a major influence on the development of Australian viticulture, He arrived in New Zealand in 1832, and within four years of planting vine cuttings was making wine at Waitangi, also in Northland.

Apart from the early British enthusiasts, there were French, German and Dalmatian settlers who arrived as gum diggers (who dug for the fossilized resin of the Kauri tree), but who were later to make a great contribution to the growth of the wine industry in the 20th century.

In addition to the problems from which all 19th-century vineyards suffered - in particular pests and diseases such as phylloxera, which reached New Zealand in 1895 - the country's winemakers were hampered by a widespread temperance movement. The effects of this legacy of abstinence continued to be felt until 1990, when supermarkets were for the first time allowed to sell wine.