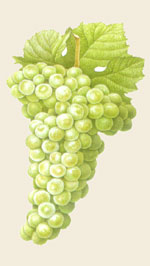 Chenin Blanc is a variety of usually unexciting if predictable quality. In one area — the Loire — it can make long-lived white wines which emerge from an acidic youth to a maturity of complex, luscious sweetness. In South Africa, California and other areas it is used to make medium-dry wines of inoffensive and commercial character. It is an adaptable variety.

The great Chenin-based Loires are Vouvray, Bonnezeaux, and other Anjou appellations. The winetaster finds these wines a challenge, for without intimate knowledge of Loire vintages it is hard to tell if they will be sweet, moderately sweet or almost dry. Age plays its part too: few white wines live as long as sweet Chenin Blanc-based wines in a great vintage.

The variety is suited to late-harvest wines from grapes affected by noble rot (botrytis cinerea). The Layon Valley of Anjou, and Vouvray, are the prime areas for this. Chenin Blanc ripens late, and picking can take place as late as November. The resulting wines are sweet, with the noble rot accentuating the sweetness.