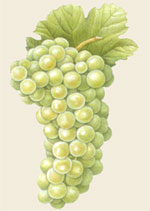 The most successful white grape in the international spread of classic varieties, Chardonnay became established as the name of a style in California in the wine boom of the 1970s and 1980s.Winemakers around the world have attempted to replicate some of the success of Chardonnay in its home vineyards of Burgundy and Champagne. This process has demonstrated that Chardonnay is a profoundly adaptable variety, capable of making a wide range of wine styles in a wide range of locations.

The vine is easy to grow, and it tolerates a wide range of climates, from the cold of Champagne to the warmth of Australia.

The classic, benchmark Chardonnays are the white wines of the Cote d'Or, Chablis and Macon, and the sparkling wine of Champagne. In burgundy, Chardonnay is used alone; in champagne it is normally blended with the black grapes Pinot Noir and Pinot Meunier. Champagne made from pure Chardonnay is called, and is labeled, blanc de blancs.

White burgundy marries the tastes of Chardonnay and oak, a pairing that has been tried everywhere Chardonnay is grown. Oak casks are used to ferment the wine in Burgundy, as well as to age it. This treatment is restricted by its cost to the very best wines: most Chardonnay is simpler, made with normal methods.

Tasters find strong fruit flavours in Chardonnay: in hotter climates, the fruits move away from the citrus of burgundy towards the banana/ pineapple end of the spectrum. The best Chardonnays, such as white burgundies, age well: others, especially those with no oak-ageing, are made for early drinking. With Chardonnay, much depends upon the intentions of the winemaker.