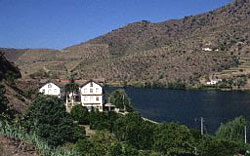 Among the many distinctive native grape varieties are:
White

- Alvarinho
Thick-skinned grape producing some of the best, appley, Vinhos Verdes.

- Arinto
Makes lively, lemony, dry white wines in the south.

- Loureiro
Traditional Vinho Verde variety increasingly used on its own to make delicate, flowery wines.

- Maria Gomes
Adaptable variety used for sparkling wines in Bairrada. Known as Fernao Fires in the south. Fragrant, sometimes spicy.

Red
- Baga
Small, dark grape making long-lasting, tannic wines in Bairrada.

- Castelao Frances
Widely planted in the south, often known as Periquita

- Ramisco
Planted without grafting in the sand at Colares, Ramisco produces firm, scented wines.

- Tinta Roriz
Widely planted in the Douro. Known in the south as Aragonez.

- Touriga Nacional
Important port grape also good for table wines in the Douro and Dao. Powerful and tannic.