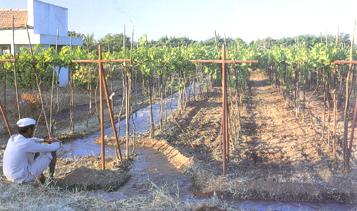 Multi-millionaire Sham Chougule owns a high-tech winery 150km (90 miles) inland from Bombay at Narayangaon, in the Sahyadri Mountains. The 40-ha (100acre) vineyard, of which nearly half is devoted to Chardonnay, is on east-facing, lime-rich soil at 750m (2,475ft). This partly mitigates India's hot, dry climate.

What startled Western palates about the winery's dry sparkling wine, Omar Khayyam, was that it had an extraordinary European character and appeal. It is made with the skills of foreign consultants - initially from the Champagne house of Piper-Heidsieck -and produced from a blend of grapes that includes 20% Chardonnay and some Ugni Blanc.

With his joint-venture partner Pernod-Ricard, Chougule is set to sell Marquise de Pompadour on the Indian market. This demi-sec version of Omar Khayyam uses 20% Thompson Seedless table grapes in the blend. He is also launching European-style still wines: medium-dry Riviera White (Ugni Blanc, Thompson Seedless and Chardonnay) and Riviera Red (Pinot Noir, Cabernet Sauvignon and Bangalore Blue) are both intended to retail at less than one-sixth the price of imported French Chablis.